IAASB Revised Detailed Work Plan Table for 2020‒2021
IAASB
Feb 1, 2021 | Guidance & Support Tools
English
To account for COVID-19's impact on the International Auditing and Assurance Standards Board's (IAASB) work, its staff capacity to deliver, and the capacity of the IAASB's stakeholders to participate in consultations and to implement new standards, the IAASB has again reconsidered the timelines for its projects in 2020. The Revised Detailed Work Plan Table for 2020-2021 (February 2021) sets out a description of the changes that have been made and the revised timelines for 2021 (as applicable).
Image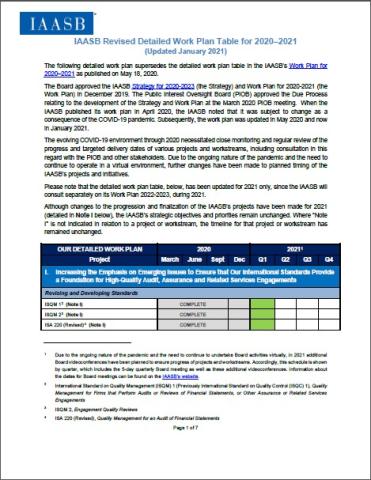 (as at February 1, 2021)
Copyright © 2023 The International Federation of Accountants (IFAC). All rights reserved.