IAASB Project Proposal – Emerging Forms of External Reporting
Guidance on Key Challenges in Assurance Engagements Over Emerging Forms of External Reporting ("EER")
IAASB
| Annual Reports and Plans
English
The IAASB's Emerging forms of External Reporting (EER) Task Force  developed a Feedback Statement to highlight the responses received on the August 2016 Discussion Paper, Supporting Credibility and Trust in Emerging Forms of External Reporting: Ten Key Challenges for Assurance Engagements. This Feedback Statement provides an overview of the key messages from the responses to the questions in the Discussion Paper. The responses have helped inform the IAASB as to what its next steps should be to progress with its project in this area. Developing guidance to help overcome the Ten Key Challenges identified in the Discussion Paper will require close collaboration with a wide range of stakeholder groups.
To further its work in this area, the IAASB approved a project proposalin October 2017. The project is intended to develop new non-authoritative guidance to address key challenges, identified by the IAASB, which arise in the performance of assurance engagements over EER in applying ISAE 3000 (Revised). This project was made possible through a grant from the Gordon and Betty Moore Foundation with support from the World Business Council for Sustainable Development (WBCSD). 
Image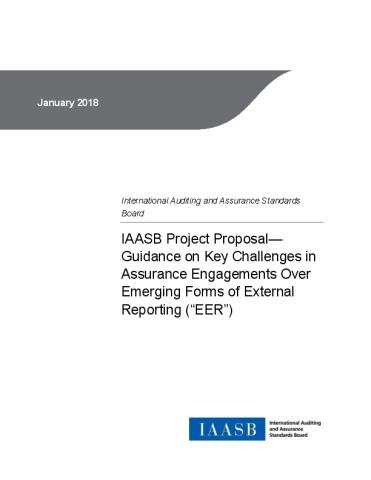 Guidance on Key Challenges in Assurance Engagements Over Emerging Forms of External Reporting ("EER")
Copyright © 2023 The International Federation of Accountants (IFAC). All rights reserved.