Image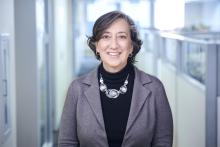 Susan Jones
Job Title
IAASB Technical Advisor for Len Jui
Country
United States of America
Susan Jones is the Director, Global Services Center, Audit Methodology and Implementation at KPMG LLP.  She works to ensure that the auditing standards are appropriately incorporated into the firm's audit methodology.
Prior to KPMG, Ms. Jones worked for Grant Thornton, where she was the National Partner in Charge – Auditing Standards, and the American Institute of Certified Public Accountants (AICPA) as the Director – International. While with the AICPA, Ms. Jones served on the staff of the Auditing Standard Board (ASB) and was seconded to IFAC to serve on the staff of the International Auditing Practices Committee (now the IAASB).
Ms. Jones also represented Grant Thornton as a member of the IAASB, and in activities with the ASB, and the Public Company Accounting Oversight Board.
Ms. Jones is a Certified Public Accountant and a member of the AICPA and the New York State Society of Certified Public Accountants.
Ms. Jones has a Bachelor of Science in Accounting from the University of Delaware, and a Masters in Business Administration from New York University.