Image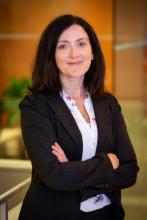 Johanna Field
Job Title
IAASB Technical Advisor for Eric Turner
Johanna Field, CPA, CA, is a Principal, Auditing and Assurance Standards, at Chartered Professional Accountants Canada (CPA Canada), supporting the activities of the Canadian Auditing and Assurance Standards Board. Specifically, she supports the Canadian Board in the revisions to International Standard on Auditing (ISA) 500, Audit Evidence, and determining guidance needed to support assurance on extended external reporting.
Ms. Field spent the first decade of her career with Grant Thornton LLP in audit and assurance. For six of those years, she worked in a national audit and assurance role, where she developed and delivered training, researched and wrote policy and publications, and maintained the firm's audit methodology under changing standards.
Ms. Field is a Chartered Professional Accountant (CPA) and Chartered Accountant (CA) and a member of CPA Canada and the Chartered Professional Accountants of Ontario. Ms. Field also has a bachelor's degree in business administration from the University of Prince Edward Island (Canada).