Image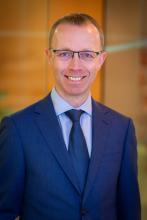 Jamie Shannon
Job Title
IAASB Technical Advisor for Edo Kienhuis
Jamie Shannon is a Director in the PwC Network's Global Assurance Quality function, with responsibility for Standards and Auditor Reporting.
Mr. Shannon coordinates the PwC network's monitoring of the IAASB's agenda, including the development of responses to IAASB's exposure drafts. He was also a member of the team that led the implementation of the Clarity International Standards on Auditing into the PwC network's global methodology and was a member of the project team for PwC's global Auditor Reporting Working Group. He is also the Chair of the Institute of Chartered Accountants in England and Wales' ISA Panel, the committee that monitors and provides input on the IAASB agenda.
Mr. Shannon is a member of the Institute of Chartered Accountants of Scotland. He began his career in 2000 in PwC's assurance practice in Glasgow before transferring to his current role in 2010.