Staff Audit Practice Alert
Responsibilities of the Engagement Partner in Circumstances when the Engagement Partner Is Not Located Where the Majority of the Audit Work is Performed
IAASB
| Guidance & Support Tools
English
As an initial response to concerns raised about situations when engagement partners are not located where the majority of the audit work is performed, including concerns raised by certain regulators and audit oversight bodies, this Staff Audit Practice Alert serves to remind auditors of the responsibilities of the engagement partner described in the International Standards on Auditing™ (ISA™).
The IAASB will continue to seek further information about the circumstances addressed in this Staff Audit Practice Alert to inform its work on group audits and quality control.
Image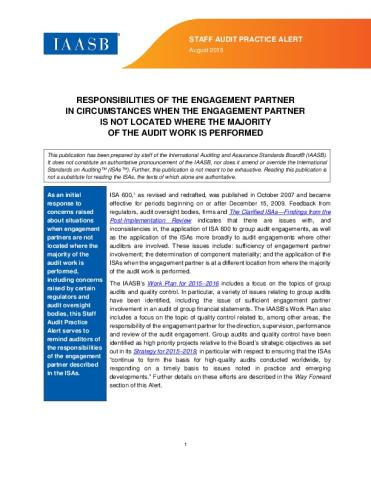 Responsibilities of the Engagement Partner in Circumstances when the Engagement Partner is not Located Where the Majority of the Audit Work is Performed
Copyright © 2023 The International Federation of Accountants (IFAC). All rights reserved.