ISA 600 Project Update
Enhancing Audit Quality Focusing on Group Audit
IAASB
| Guidance & Support Tools
English
This publication was prepared by the IAASB Group Audits Task Force to update the issues under consideration in the revision of ISA 600, Special Considerations‒Audits of Group Financial Statements, and other projects that address other international standards, including ISA 220, Quality Control for an Audit of Financial Statements, and ISQC 1, Quality Control for Firms that Perform Audits and Reviews of Financial Statements, and Other Assurance and Related Services Engagements. It also explains the linkages between these projects as they relate to group audit issues.
Image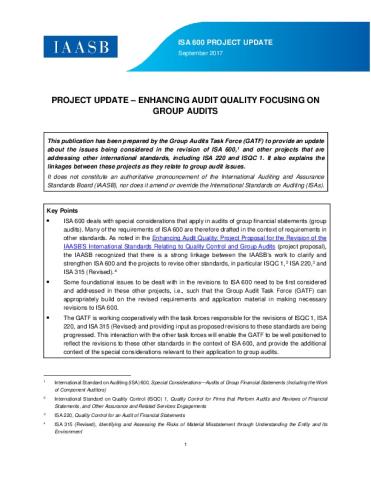 Enhancing Audit Quality Focusing on Group Audit
Copyright © 2023 The International Federation of Accountants (IFAC). All rights reserved.