IAASB Work Plan for 2019: Enhancing Audit Quality
IAASB
| Annual Reports and Plans
English
The IAASB Work Plan is guided by the three underlying strategic objectives, as set out in the Strategy for 2015‒2019:
a continued focus on International Standards on Auditing as the basis for high-quality audits;
the importance of standards for other services addressing emerging stakeholder needs; and
the board's intention to strengthen collaboration to address public interest matters relevant to its work.
The 2019 Work Plan prioritizes addressing the most pertinent public interest issues and includes details about the IAASB's planned work to continue progressing the significant projects started at the beginning of this strategy period.
The IAASB's Strategy for 2015-2019 included two other work plans, 2015‒2016 and 2017‒2018.
Image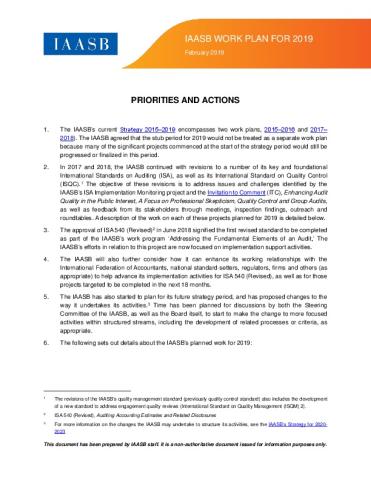 Priorities and Actions
Copyright © 2023 The International Federation of Accountants (IFAC). All rights reserved.