Determining and Communicating Key Audit Matters
IAASB
| Guidance & Support Tools
English
All available Translation:
Determining and Communicating Key Audit Matters has been prepared by the Auditor Reporting Implementation Working Group.
It is intended to provide an overview of how to determine which matters are Key Audit Matters (KAM) as set out in ISA 701, Communicating Key Audit Matters in the Independent Auditor's Report, and what is communicated in respect of KAMs. The diagram forms part of the Auditor Reporting Toolkit.
This diagram does not constitute an authoritative pronouncement of the International Auditing and Assurance Standards Board (IAASB), nor does it amend or override the International Standards on Auditing (ISAs). Further, this diagram is not meant to be exhaustive and reading this diagram is not a substitute for reading the ISAs.
Image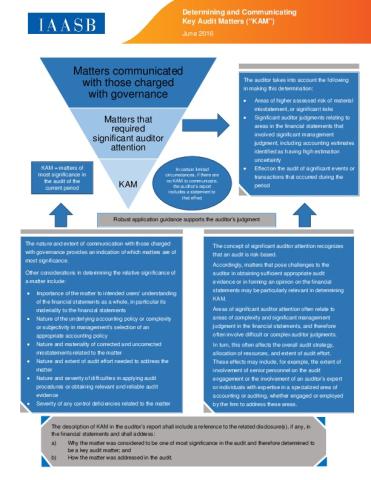 Determining and Communicating Key Audit Matters
Copyright © 2023 The International Federation of Accountants (IFAC). All rights reserved.