Image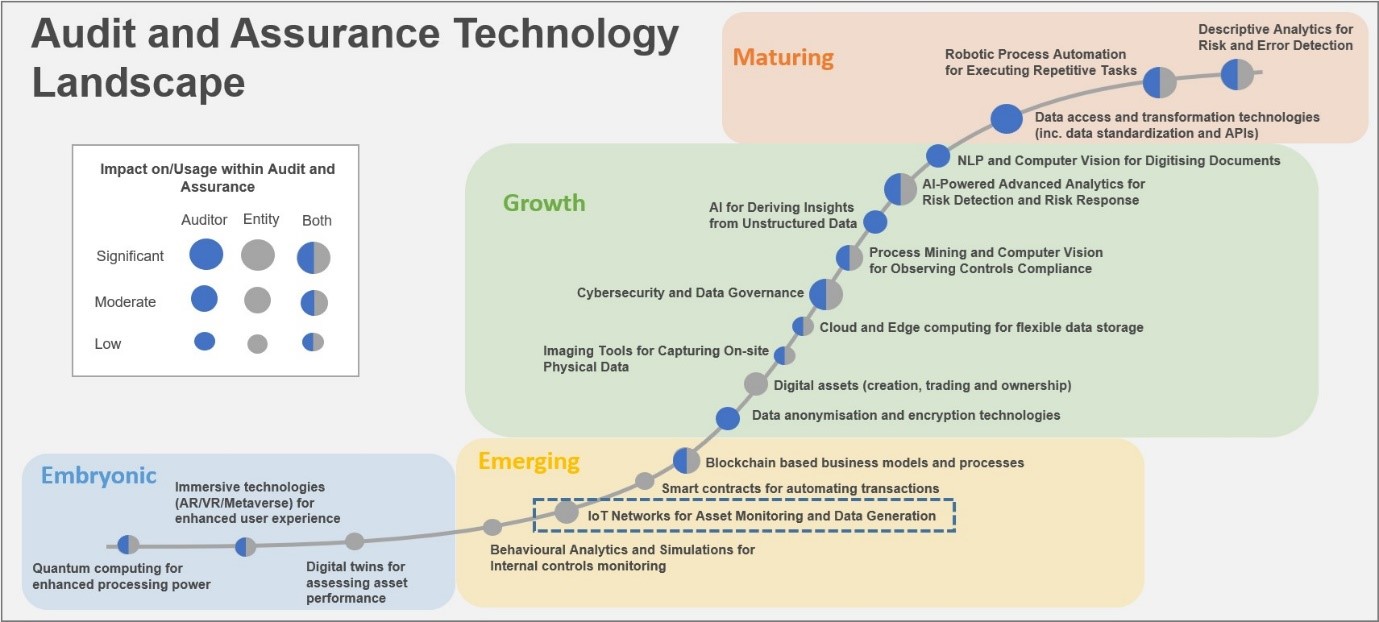 Welcome to the eighth market scan from the IAASB's Disruptive Technology team. Building on our ongoing work, we issue Market Scans covering exciting trends, including new developments, corporate and start-up innovation, noteworthy investments and what it all might mean for the IAASB.

In this Market Scan, we explore the Internet of Things, focusing on Networks for Asset Monitoring and Data Generation, a technology that enables real time tracking, managing and monitoring of business processes and assets. It also may form part of an entity's internal control system and may provide data inputs to non-financial reporting, such as emissions reporting.
We cover:
What is the Internet of Things? Why is it important?

The latest developments

What this might mean for the IAASB
What is the Internet of Things? Why is it important?
The Internet of Things (IoT) is a system of interconnected computing devices, mechanical and digital machines or devices in objects, animals, or people that are provided with unique identifiers and the ability to transfer data over a network without requiring human-to-human or human-to-computer interaction. IoT devices include consumer products, such as smart home and personal devices (e.g., Ring Doorbell, Apple Watch), and industrial products, such as medical monitoring applications or control sensors and systems used in transportation, manufacturing, and agriculture.

Digital Twin is a digital representation of a physical entity, such as an asset, process, system, device or even a person, and is an emerging technology related to the Internet of Things. This technology, coupled with other technologies, like artificial intelligence, machine learning or process mining, can be used to drive business and operational process efficiencies. For example, a digital twin of a wind turbine can be used to simulate component wear and tear in order to predict turbine performance and make assessments of optimal maintenance strategies and return on investment expectations.
What is IoT? | IoT - Internet of Things | IoT Explained in 6 Minutes | How IoT Works? | Simplilearn
The commercial benefits associated with deploying IoT technology include:
There are some challenges associated with these technologies, such as managing and maintaining all the devices in the network and ensuring the network operates securely, as well as safeguarding data quality and governance. The growth in IoT system complexity has given rise to IoT system management innovations to manage both internal device needs, such as software updates, as well as how those devices communicate across an IoT network. This may be done using a combination of interconnected information systems, for example, as shown in the diagram below.
Source: What is Internet of Things Security | IoT Device Management | Imperva
From an audit and assurance perspective the implications related to an entity's use of IoT devices and systems broadly are twofold. Firstly, these technologies may form part of the entity's internal control system and, therefore, require consideration when identifying and assessing risks of material misstatement, including considerations around cybersecurity risks. Secondly, the data generated and collected may be used within the entity's financial or non-financial reporting, such as sustainability-related disclosures and commentary, which warrants the auditor or assurance practitioner's consideration of information intended to be used as evidence and the design and performance of audit/assurance procedures.
Recent Noteworthy Developments in Internet of Things
This section is designed to provide examples of recent developments that may signal future disruption in this area. It is not a complete list of all activities related to the IoT.

1.  NIST selects 'Lightweight Cryptography' Algorithms to Protect Small Devices
In February 2023, the US National Institute of Standards and Technology (NIST) announced it had selected ASCON as having the winning bid for the "lightweight cryptography" program to find the best algorithm to protect small IoT devices with limited hardware resources.

In the announcement, NIST said, "The algorithm ensures that all of the protected data is authentic and has not changed in transit. AEAD [authenticated encryption with associated data] can be used in vehicle-to-vehicle communications, and it also can help prevent counterfeiting of messages exchanged with the radio frequency identification (RFID) tags that often help track packages in warehouses."

2. Start-up activity related to IoT systems and associated technologies
In May 2022, sustainability platform Sustain.Life raised USD $16m in seed funding to support its hiring, software development and customer growth. The platform is designed to help small- and medium-sized entities measure and report their carbon emissions and environmental impact.
In January 2023, Memfault, a platform that enables IoT device monitoring and maintenance over the cloud, secured USD $24m in Series B funding to expand its platform's software support and invest in out-of-the-box integrations.
In January 2023, Forward Networks Inc, a US-based start-up, raised USD $50m in a Series D funding round to enable it to grow its digital twin technology. The technology creates "mathematically accurate digital twin models for sprawling enterprise networks that can drive actionable insights".
What this might mean for the IAASB
The IAASB is interested in maintaining its collective knowledgebase on digital technologies (including on specific sub-topics such as the IoT), promoting digital readiness and enablement through its engagement with stakeholders, and encouraging action by others to supplement and support the IAASB's standard-setting activities.

Subject to the IAASB's work plan decisions, possible digital technologies use cases for audited entities, and audit or assurance engagements might provide input for further modernizing the IAASB's standards to be adaptable to and reflect the current business and audit environment, while remaining principles based.

When deployed by entities, IoT devices and networks have the potential to create increased complexity in information systems due to the volume of interconnected devices that require appropriate consideration by the auditor when performing risk identification and assessment procedures. As this technology becomes more sophisticated, particularly where coupled with artificial intelligence technology, it may present novel risks, for example, where real-time analysis and refinement of the device occurs. This may present new challenges for the auditor and may, therefore, have implications for the IAASB's work, whether in terms of future standard setting related to technology or facilitating or supporting action by others (e.g., developing guidance).

Regarding non-financial information assurance, audited entities are beginning to develop and implement technologies such as smart sensors to measure individual product's carbon emissions as they move through the supply chain to gather data to measure carbon footprint. Assurance providers will need to develop approaches to evaluate the relevance and reliability of such information from IoT devices intended to be used as evidence and how the nature and source of this information affect the design and performance of procedures for identified disclosures of non-financial information.

The IAASB is currently working on a project to develop an overarching standard for assurance on sustainability reporting as a global baseline for sustainability assurance engagements, while anticipating the need to develop further standards as part of a suite of standards for sustainability assurance. Providing more specificity in relation to the implications of technology, such as the entity's use of IoT technology and the assurance provider's use of information produced from IoT sources, may prompt certain candidate topics for future standard-setting activities.
Useful Resources
Interesting Story
Forget the IoT. Meet the IoZ: our Internet of Zombie things | Security Ledger – five-minute read

The growing reliance on IoT devices has created an unintended consequence for consumers, with large volumes of IoT devices no longer supported by their manufacturers. This has led to issues around security and waste, which are discussed in this article