Image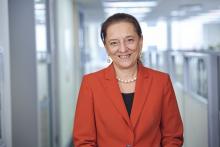 Isabelle Tracq-Sengeissen
Isabelle Tracq-Sengeissen is a member of the IAASB since January 2018; she was nominated by CNCC and CSOEC (France). Mrs. Tracq-Sengeissen was previously technical advisor to the IAASB from 2009 to 2014.
Mrs. Tracq-Sengeissen is an audit partner at EY in France, with 32 years of experience in auditing and works for a variety of clients. Mrs. Tracq-Sengeissen is also passionately involved in the development of auditing and accounting profession in foreign countries, especially in French speaking African countries. Since 2022, she has been the EY Global Professional Practice Sustainability Leader.
Mrs. Tracq-Sengeissen is the chair of the auditing standard board of CNCC and has been a member of that board since 2000. She is a member of DIPAC executive committee (CNCC-CSOEC international affairs joint department). Also, Mrs. Tracq-Sengeissen is a board member of Neoma business school Alumni association.