Image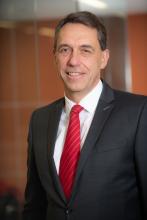 Kai-Uwe Marten
Professor Kai-Uwe Marten joined the International Auditing and Assurance Standards Board (IAASB) in January 2018; was nominated by the Institut der Wirtschaftsprüfer (Institute of Public Auditors in Germany) and the Wirtschaftsprüferkammer (Chamber of Public Accountants).
Currently he is the Director of the Institute of Accounting and Auditing at the University of Ulm, Germany. And previously to this, Professor Marten has taught several accounting and auditing classes at German universities and has contributed significantly to research.
Professor Marten has gained vast practical experience in audit regulation at the German Auditor Oversight Commission (AOC), where he held the position of Deputy Chairman for 11 years and became Chairman, until the dissolution of the Commission. In addition, the European Commission nominated him in 2005 as one of the two official observers to the Public Interest Oversight Board (PIOB). From 2008 until 2014, he was appointed as a member of the PIOB.