Image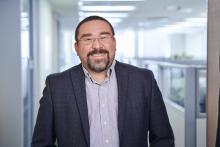 Fernando Ruiz Monroy
Fernando Ruiz Monroy was appointed member in October 2017. He was nominated by CPA Mexican Institute of Public Accountants (IMCP). Additionally, he is a member of the National Standard Settler Committee in Mexico (CONAA).
Monroy is a current practitioner and a Regional Assurance Risk Management Partner at Ernst & Young. He has more than 24 years of experience in audit services working for both public and private companies. Previous to this, Monroy was also a partner and practitioner in PwC. He collaborated for two and a half years in audit and assurance methodology projects working in New York City.
Monroy joined the IMCP in 1995 and participated into the accounting, research and dissemination group for several years. He has published articles in the IMCP magazine and presented auditing improvements and other related topics at serval conferences across the county. He also lectured in accounting and auditing topics at one of the most prestigious university in Mexico City.